Options to re-home your pet
Sometimes it becomes necessary for an owner to re-home a pet. Regardless of the reason, the animal shelter should be a last resort for a pet. Despite our best efforts to provide for the pets in our care, pets have a better life when they are in a home. If you can no longer keep your pet, please consider the following options and start early in order to avoid surrendering your pet to the shelter.
Adopt a pet  Re-home a pet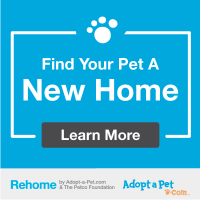 GetYourPet.com -  is another web based company that matches guardians of dogs and cats who need a new home with potential adopters. 
Your pet will be seen along with pets offered for adoption by local shelters and rescues. Your contact information is kept private. You can communicate with potential adopters and will take comfort in knowing the outcome for your pet. 
Facebook
A closed Facebook group dedicated to improving the lives of pets in Colleton. You must request to join the group and be approved prior to posting. 
Your personal contacts
Pet owners are often surprised to find out that someone in their own personal circle will welcome their pet into their family. Be sure to check with family and friends, use social media and bulletin boards at vet offices, work and other high traffic locations to advertise your pet. Great photos make a huge difference and video is a big plus. 
When the shelter is necessary
Pets are accepted at the shelter by appointment on a space available basis. Call 843 893 2651 and ask to make an appointment to surrender your pet. This will ensure that your pet comes in at a time when kennel space is available and staff can do their best to make your pet feel welcome. Bring any vet records for the pet and be ready to answer a few questions about what your pet is like and why you need to surrender the pet. SC Law allows for owner surrenders to be euthanized immediately and our shelter does provide a 24 hour period in case an owner has a change of heart. We try really hard to never use this option but we feel it's important for owners to understand the possibility of this outcome for their pet. The county assesses a fee to surrender a pet: 
Cats and dogs over 3 months $15 per pet
Cats and dogs under 3 months $5 per pet
Last updated: Tuesday, December 7, 2021 - 11:26