The Colleton Museum & Farmers Market aims to preserve and promote the historical, natural, cultural, and agricultural heritage of Colleton County through the care and conservation of collections, research, interpretation, exhibitions and educational programs.
The Colleton Museum & Farmers Market has a range of facilities under one roof. We have exhibits reflecting our local history & culture, including The Civil & Revolutionary Wars, The ACE Basin, Plantation Life, Colleton Life, and Varn's General Store. We also hold a Seasonal Farmers Market and Open Mic Night on Tuesdays from 4-8 pm and Saturdays from 9-1 pm. In our Marketplace Cafe and Gift Shop we have local produce, crafts, and home goods available for purchase.  We also have a large outdoors green space as well as event space for rental. Contact us to find out more.
The Colleton County Museum and Farmers Market is a multi-purpose facility that provides retail opportunities for local farmers; a meeting room available for a nominal fee for functions, parties, and local business training; and a dynamic museum celebrating the arts, culture, and history of this Lowcountry community.
The mission of the Farmers Market is to provide a thriving public market for local small farmers and "craft" vendors, increasing their productivity, sustainability, and profitability; to give residents and visitors access to locally-grown fruits, vegetables, flowers, and plants; and to encourage a healthy lifestyle and healthy eating for all. .
The market offers fresh local vegetables and fruits, farm fresh eggs, local honey, handmade crafts and art, plants, homemade baked goods, prepared food, music, and much more! Colleton farmers market is open from May through November on Saturdays from 9am until 1pm & on Tuesdays from 4pm until 8pm all year-round. We accept cash, credit, debit, SNAP/EBT, vouchers purchasing food with SNAP/EBT allows you to earn $15 in free produce thanks to the healthy bucks program. If you are interested in becoming a vendor please look through the "farmers market rules" at the bottom of the page & call 843-549-2303 or email if you have any questions.
We look forward to continually supporting our community if you would like to become a vendor with us, please take the time to download and read the following pamphlet explaining the rules of the farmers market. Thank you very much!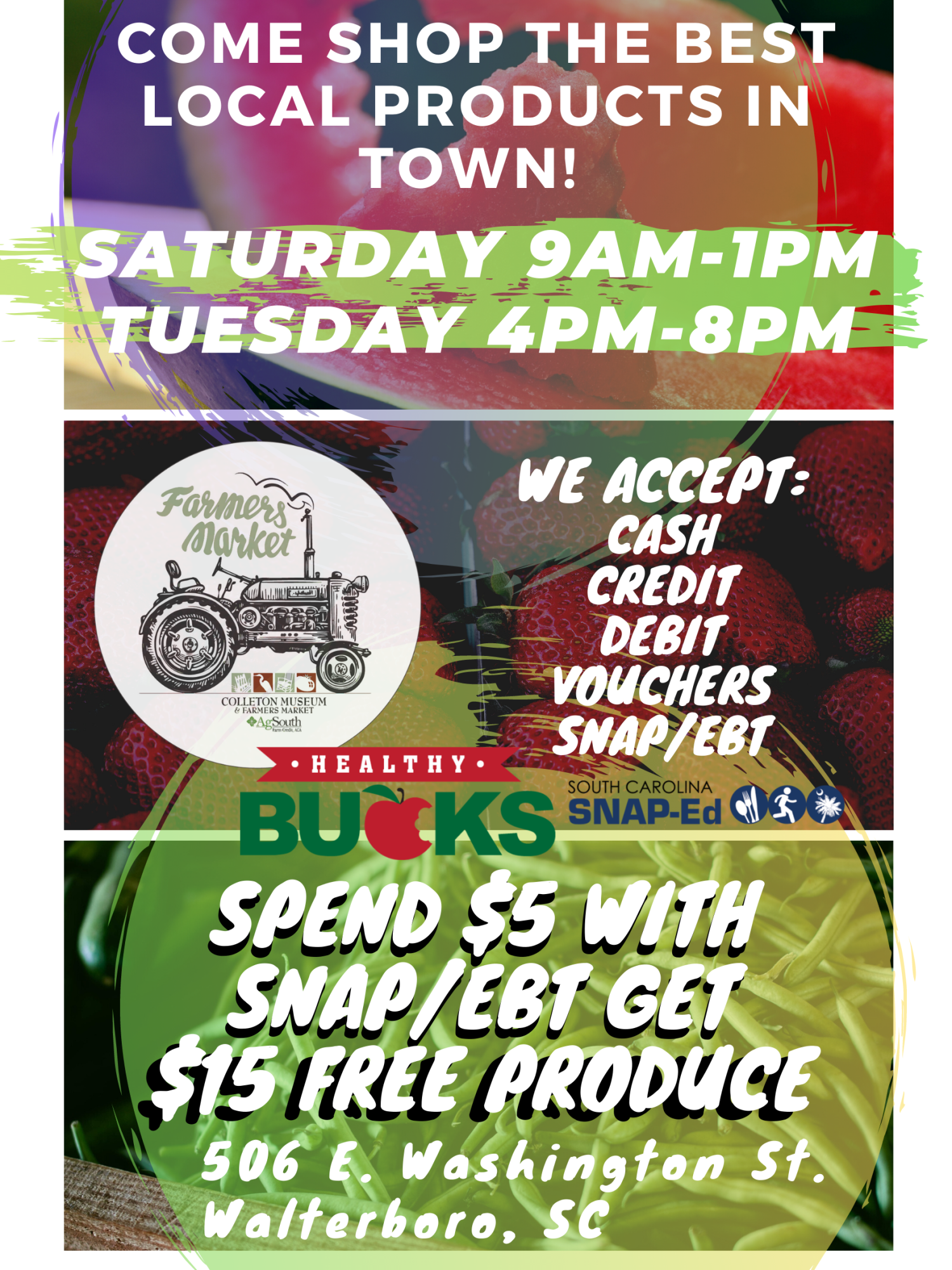 Colleton Commercial Kitchen's mission is to provide the physical kitchen infrastructure and training opportunities needed to support, incubate, and educate present and future local food business entrepreneurs in order to assist in the creation of farm-to-table food service business ventures, restaurant start-ups, and commercial food preparation, presentation, and production job opportunities.
Monday: Closed
Tuesday: 10:00AM-5:00PM
Wednesday-Friday: 10:00AM-5:00PM
Saturday: 10:00AM-2:00PM
Sunday: Closed