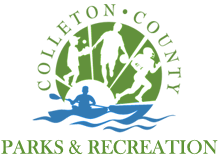 PickleBall is now being offered at the Colleton County Recreation Department. 2 Indoor Courts are available for use.
Paddles and Balls are included with the $1.00 Usage Fee/per person.
The gym is reserved for PickleBall on Mondays, Wednesdays, and Fridays from 8am-Noon, and Sundays between 2pm and 4pm.
Night Pickleball is every Tuesday and Thursday from 6pm-8pm.
PickleBall is available anytime unless the courts have previously been reserved. 
If you have any questions please contact us at 843-538-3031.
Join the Pickleball Club!! Membership is FREE! Call us and we will let you know how to join today!